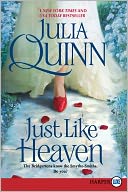 Just Like Heaven is an ARC that I received free from Amazon Vine.  I loved Julia Quinn's Bridgerton series and when I saw that the Bridgeton's know the Smythe-Smiths I picked Just Like Heaven as one of my two free books.  I was not disappointed with my choice.
In Just Like Heaven Julia Quinn has created a hero and heroin that are both very likeable people.  The start of the series revolves around that Smythe-Smith Musical that we heard about first in the Bridgerton series.  Marcus Holroyd has known Honoria Smythe-Smith since she was 6 and he was twelve.   Honoria was a six-year-old pest who wanted to go everywhere with her brother Daniel and his friend Marcus.  Now that Honoria is twenty-one and Marcus is twenty-seven things are different.  It is such fun to watch these two realize that they are not only friends but are also falling in love.
Just Like Heaven is also full of humor.  I challenge anyone to read the scene where someone's mother is pecked to death by pigeons and not laugh so hard they hurt.  Just Like Heaven is a great start to a new series.  I like to guess who will be featured next.  I wonder if it will be the governess that Marcus thinks he has seen before?
Avon published Just Like Heaven by Julia Quinn in 2011.  The book will be released May 31, 2011.
Giving me a free book does not guarantee a recommendation.  I will not recommend a book if I do not like it.